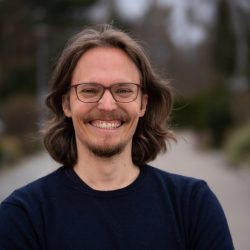 Dr. med. Lars Nill
(physician, functional medicine practitioner, acupuncturist, docent) 
Studies at the University of Munich (LMU)
Doctoral thesis at the LMU Munich
    "Akute Hyperhomocysteinämie führt zu makro- und mikrovaskulärer endothelialer Dysfunktion, die durch Vorbehandlung mit        
    ThiolAntioxidantien aus gealtertem Knoblauch-Extrakt verhindert werden kann"
After my studies I worked several years in clinics and medical practices  (pediatric surgery (Landshut/London) and ENT Surgery (Berlin)).

The search for the "root causes" of diseases led me to the following qualifications/training:
Functional Medicine at the Kalish Institute of Functional Medicine (mentorship class and ongoing education) with:
Dr. Dan Kalish (mentor and founder of the Kalish Institute):
lead faculty for the Institute for Functional Medicine's Practice Implementation program
published research study with the Mayo Clinic: Link 
graduates of the Kalish Institute include Mayo Clinic and Cleveland Clinic physicians
Richard S. Lord, Ph.D.:
over 40 years thought leader and innovator in the fields of laboratory testing and education
wrote "the book" on lab testing, "Laboratory Evaluations in Integrative and Functional Medicine"
developed the industry's most popular tests still in use today, including the first to analyze the microbiome, organic acids, fatty acids, amino acids and individual nutrient assessments 
Functional Medicine & Stress Medicine (IFMS Hannover bei Robert Barring) 
Acupuncture and Traditional Chinese Medicine with Diploma  ("Shou Zhong", TCM school; AGTCM Ausbildungszentrum Ost)) 
Traineeship at the University of chinese medicine, Chengdu, China 
Laser-Acupuncture and Laser-Therapy (Dr. med. Michael Weber) 
THOR Photobiomodulation Training Course (THOR Photomedicine Ltd) 
Advanced vocational training in Gut Health
(certified expert in Gut Health; Akademie für Darmgesundheit und DeProm (Deutsche Gesellschaft für Probiotische Medizin)) 
Ear Acupuncture (Michael Noack)
Besides my work I am interested in QiGong, meditation and philosophy.